Because improving public transit is still vitally important for greater Detroit, I hope you'll join us, Supporter, in celebrating the amazing people and projects working to do so.

Don't miss
the Regional Transit Awards dinner 
next Thursday evening, May 11:
tickets only available through May 4.

This event is TRU's only major fundraising event of the year and is vitally important in making possible our fight for better transit all year long.

If you want better Detroit area transit, please support TRU by coming or donating in support of this great event! 


This event will celebrate five amazing Regional Transit Awardees:
Warren Evans, Wayne County Executive, receiving the Forward Motion Award for Most Effective Public Servant
RefleX, joint service of DDOT, SMART and RTA, receiving the 2017 Exemplary Innovation Award
Alexis Blizman, regional transit's 2017 Unsung Hero 
Ben Stupka, RTA Manager of Planning and Financial Analysis, as Transit Employee of the Year
Daniel Duane Spyker, receiving the Transit Activist of the Year Award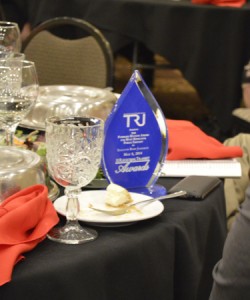 To learn more about these extraordinary people and projects and congratulate them, please join us as these awards are presented at TRU's sixth annual Regional Transit Awards dinner on Thursday evening, May 11. 

Each year over 150 transit staff, elected leaders, community activists and other supporters come together for a cocktail reception, 3-course dinner and Award Ceremony recognizing our region's top transit champions. You won't want to miss it!

While donations are welcome at any time, please note that we will NOT be accepting last minute attendees. Tickets must be purchased by May 4.

Show your support for regional transit, these extraordianary people and projects, and TRU's important advocacy work: buy your tickets or make your donation today!

Thanks,
Megan

PS - Transportation Riders United is Detroit's nonprofit transit advocate, working since 1999 to improve bus service, remove barriers to rapid transit, and advocate for smart transportation investments. We send emails a few times a month about top news, events, and opportunities impacting Detroit area transit.

If this was forwarded from a friend, you can join our email list and receive these updates directly every week or two.