It's a busy and exciting time for regional transit, Supporter! Here are five quick updates for you:

1) New regional transit service launching! 


RTA, DDOT, and SMART have partnered up to launch a pilot project called Reflex. Starting this weekend, you can travel quickly and seemlessly along Woodward or Gratiot - no need to transfer at the border! It will operate 20 hours/weekday, plus all weekend too (16-18 hours/day). It is a pilot service that could be the preview of greater rapid transit to come!

Learn more at www.RTAmichigan.org/Reflex. 

2) Major expansion of DDOT bus service too!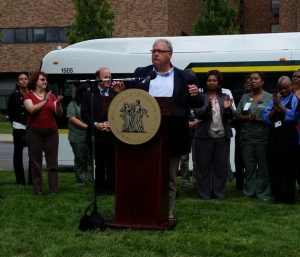 I was honored to join Mayor Duggan as he announced this that DDOT is making their largest bus service expansions in more than a decade! After a decade of cuts, it's wonderful that they're adding 1,500 more trips a week for DDOT riders. This includes:
24-hour service on #14 Crosstown, #16 Dexter, and #45 Seven Mile
Two new express bus routes -

#95 Ryan Express, connecting to Downtown via East Outer Drive, Ryan, Nevada, Conant, Caniff, Lumpkin, Holbrook and I-75.
#96 Joy Express, connecting to Downtown via Evergreen, Joy and I-96.

"Fresh Wagon," a new Saturday-only nonstop round-trip service to Detroit's Eastern Market from every City Council District.
A second wave of service expansions, also detailed today, will begin in January. However, as the Mayor noted, the Regional Transit Plan is still hugely needed to connect between our communities. 

3)  The Vote Yes campaign is launching soon! 


The official Vote Yes for Regional Transit campaign will be formally launching next Thursday, Sept 8. Organized by the newly formed Citizens for Connecting Our Communities, this group is leading efforts to ensure a win for regional transit this November.

While the campaign officially kicks off next week, you can get a preview, sign up to volunteer and/or add your name to the official list of supporters at http://VoteYESforRegionalTransit.com. Stay tuned for lots more! 

4) Join TRU and the campaign at Arts, Beats & Eats this weekend!

TRU will be teaming up with the Vote Yes campaign to build support for the regional transit vote this weekend at Arts, Beats, & Eats in downtown Royal Oak. It's a great event that had more than 380,000 people visit last year. Help us make sure all these people know why they should Vote Yes for Regional Transit! To volunteer, please contact Alexis with which dates (Friday-Monday) and times (11am-11pm) you're available to help. Note - We especially need help on Saturday. 

TRU will also be at Dally in the Alley next weekend!

5)  Donations to TRU go twice as far this month! 

Thanks to a generous supporter, every donation made to TRU this month will be doubled! If you appreciate TRU's work fighting for more and better transit, please support our work with a donation today.

If you haven't yet, this is a great time to join our Transit Guardian sustainer program with an easy monthly gift. However you give, your support makes possible TRU's work fighting for more and better transit, both as we build support for November's ballot measure and all throughout the year. Thanks for your support. 

Thanks,
Megan

PS - Transportation Riders United (TRU) is Detroit's nonprofit transit advocate, working since 1999 to improve bus service, remove barriers to rapid transit, and advocate for smart transportation investments.

If this was forwarded from a friend, you can join our email list and receive these updates directly every week or two.