Have you seen the RTA's proposed Master Plan, Supporter?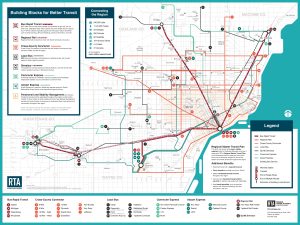 The Transit Master Plan maps out transit expansions and improvements for our region for the next 20 years (although most will be implemented within the first five years).

The RTA is accepting public comments on the plan through June 30, so you've got ten days to help make sure it's the best plan possible for our region. 

If you've seen the plan and love it,
tell them "I'm on-board for Regional Transit!"


You can also learn more about the plan and share your input. Come to one of the RTA's public meetings : 
TODAY, June 20, 6:30-8:30pm 

at the Costick Activity Center in Farmington Hills

Wednesday, June 22, 4:30-7:30pm

at the Berkley Community Center

Thursday, June 23, 6-8pm

at Detroit's Northwest Activity Center

Next Mon, June 27, 6-8:30pm

at the Washtenaw County Learning Resource Center

Next Wed, June 29, 4-7pm

at Macomb Community College in Warren

Next Thurs, June 30, 4:30-6:30pm

at Hype Rec Center in the City of Wayne

If you can't attend a meeting, you can learn more and share your input these ways:
Online at www.RTAmichigan.org
Email your comments to MasterPlanInput@RTAmichigan.org
Mail your comments to the RTA office at 1001 Woodward Avenue, Suite 1400, Detroit, MI 48826
Call the RTA at 1-313-402-1020
Visit a library where the Master Plan will be available for viewing at the reference desk, including:


Pontiac Public Library at 60 East Pike Street
West Bloomfield Township Public Library at 4600 Walnut Lake Road
Dearborn Public Libraryat 16301 Michigan Avenue
Detroit Public Library at 5201 Woodward Avenue
Ann Arbor District Library at 343 South Fifth Avenue
Mount Clemens Public Library at 150 Cass Avenue 

While we are still finalizing our comments, I can tell you that TRU strongly supports the plan as a vital step towards the robust high quality transit system our region needs. We especially applaud the emphasis on seamlessly connecting across county borders, frequent service that works around riders lives, and expanding transit into areas currently unserved or underserved by transit.  

While the plan has a great deal right, we will be submitting recommendations to the RTA for several ways the transit plan could even better serve our region:
The plan should be implemented faster, not waiting 5 years to provide some of these vital services.
The plan needs greater detail of, and likely greater investment in, transit services for seniors and people with disabilities.
Additional transit should be evaluated in several areas, like connecting Washtenaw directly to Oakland County, extending transit into downtown Plymouth, and upgrading Grand River to Bus Rapid Transit. 
And if cost is the main barrier to providing more transit service more quickly, the millage rate should be increased to 1.5 mils. This modest increase in per household cost that polls have shown voters are willing to support would enable even greater improvements in our region's transit access and mobility.   

That said, this plan is a huge improvement for our region. While we believe a greater investment could enable more transit improvements to be delivered more swiftly, TRU strongly supports this plan. 

What do you think? Please share your thoughts and recommendations with the RTA by June 30!


You can quickly and easily voice your support online: 
Tell the RTA "I'm on-board for Regional Transit!"



The RTA will evaluate all input, make adjustments to the Master Plan, and vote to officially adopt it later this summer. Then all the region's voters will have a chance to vote on its funding in November. 

Stay tuned for lots more to come!

Thanks,
Megan

PS - TRU is Detroit's nonprofit transit advocate, working since 1999 to improve bus service, remove barriers to rapid transit, and advocate for smart transportation investments.

If this was forwarded from a friend, you can join our email list and receive these updates directly every week or two.