Have you seen it,?


On Tuesday, the (RTA) unveiled their  proposed Regional Transit Master Plan for how to improve and expand transit throughout southeast Michigan.

It's a great plan that would make huge strides in addressing our region's transit needs! 

If you haven't yet, you can review the plan, a video summary, county factsheets and lots more at the RTA's website. Plan highlights and media coverage are summarized below.

If you love the plan and agree that it's a huge step towards the quality regional transit we need, I've made it easy for you to state your support:


Say "I'm On-Board for Regional Transit"
to publicly state your support!!

Remember though, this plan is still a draft. Throughout June, the RTA is hosting a series of public meetings to share information about the plan and seek your input. Come have your say to help make the plan even better! TRU is digging through the details of the plan and I'll share our comments next week.

So what's in the plan? Built from nearly two years of public input and data analysis, the plan will help address key challenges throughout the region: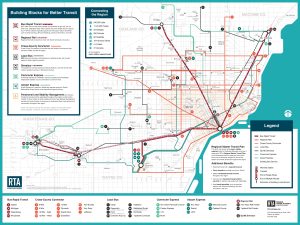 Because people need quick reliable ways to get to work, school, doctors, and elsewhere, the plan will include rapid transit buses and a regional train.
Because our lives don't end at our county borders, the plan will include cross county connector buses on ten major corridors.
To ensure we can get to the airport without spending an arm and a leg on parking or taxis, the plan will include Airport Express service throughout the region.
To ensure our region's job centers are accessible to job seekers, the plan will include expansions and extensions of existing bus service into new areas.
Because no one should feel trapped in their homes when they no longer drive, the plan will include expanded transit services for seniors and people with disabilities.
A packed house of over 300 people at the RTA's Plan release event.

There has been enormous media coverage of the plan, nearly all of it positive! Here's just a taste:
Stay tuned for even more!!


Thanks,
Megan

PS - TRU is Detroit's nonprofit transit advocate, working since 1999 to improve bus service, remove barriers to rapid transit, and advocate for smart transportation investments

If this was forwarded from a friend, you can join our email list and receive these updates directly every week or two.