Highways, and M-1, and the Airport, oh my.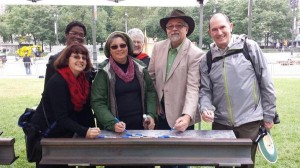 TRU's founders and other leaders were pleased to join the M-1 Rail celebration and sign a ceremonial rail on Monday.
---
Please support TRU's work to improve Detroit Transit:
Dear Supporter,
Several quick updates for you from the world of Detroit transit:
New report shows travel data doesn't support widening of I-94
TRU helped release a new national report today showing that driving has been on the decline for more than a decade, but Michigan and federal transportation plans haven't shifted accordingly.
Just a tiny fraction of the $2 billion planned for the I-94 project would fund the construction and operation of Detroit-Ann Arbor commuter rail.
We urge MDOT to reconsider the widening component of the I-94 project and prioritize transit and road repair instead. 
M-1 Rail construction: short term hassle, but great long-term benefits
If you've been near Woodward in downtown or midtown Detroit in the last two months, you know it's under major construction for both M-1 Rail and a complete rebuild of Woodward. In fact I-75 will be closed this weekend so MDOT can tear down half of the Woodward bridge over it. 
The M-1 team is working hard to keep sidewalks open and to provide tons of information so people can plan ahead. Check out M-1RAIL.com for all the construction schedules and to sign up for weekly emails, cool pictures, and much more.
Just remember, the inconvenience should be worth it when streetcars return for the first time in 60 years! 
Detroit People Mover's Grand Circus Park station closed for reovation until January
Speaking of short term inconvenience for long-term benefit, the Detroit People Mover station at Grand Circus Park is currently closed for construction. When it reopens in January, it will be fully wheelchair accessible for the first time in many years. This is the first phase of a major renovation which coincides with the restoration of the David Whitney Building.
Riders can use the Times Square or Broadway station in the interim.
Debate over transit access at Metro Airport
Several of our partner organizations have voiced concern about plans to move where transit buses stop at Metro Airport.
The airport plans to move boarding for SMART and AirRide, citing safety and congestion concerns. Trans4M and other advocates disagree, concerned that the new location creates unnecessary barriers, especially for people with disabilities.
While TRU has not taken a position on this move, we have long been concerned that the airport does very little to support or enable convenient transit travel to the airport. The new RTA CEO, Michael Ford, has expressed interest in substantially improving airport transit, which people across the region have noted should be a transit priority. Hopefully fruitful dialogues can be launched and service can be improved! 
To make sure you're receiving the transit-related news and opportunities you want (and not more than you need), please take 2 minutes to let us what you're interested in.
Whether you're excited about M-1 Rail, concerned about DDOT, or just want updates about your county, complete this very quick survey and update your contact information and we'll work hard to get you the info that matters to you! 
Also, TRU has many volunteer opportunities available, whether for professionals seeking to share expertise with an impactful organization, students seeking a meaningful internship, retirees with a few hours to help stuff envelopes in pleasant company, and many others. On the same survey, you can sign up to learn more about volunteer opportunities.

Thanks,
Megan

PS - You are subscribed to Transportation Riders United's email list. TRU is Detroit's nonprofit transit advocate, working since 1999 to improve bus service, remove barriers to rapid transit, and advocate for smart transportation investments

If this was forwarded from a friend, you can join our email list and receive these updates directly every week or two.