Join us in congratulating the Regional Transit Award winners!
---
Couldn't attend? You can sill support TRU's work to improve Detroit Transit!
Dear Supporter,
Thanks so much for joining us and helping make the 2014 Regional Transit Awards dinner a great success!!
What a wonderful evening supporting TRU's advocacy and celebrating the best of Detroit transit people, projects and possibilities! 

As a recap:
At last night's 2014 Regional Transit Awards dinner, we recognized 24 impressive nominees who have dedicated extraordinary energy and creativity to improve public transit in Greater Detroit.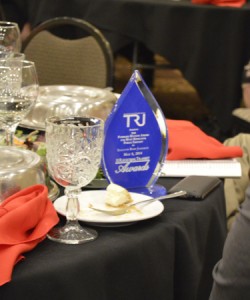 Our independent panel of judges took on the tremendous task of selecting one winner in each category:
Transit Employee of the Year: 
David Glenn, for maintaining exceptional professionalism and quality service as a DDOT Driver, along with providing leadership and new ideas for improving DDOT
The Exemplary Innovation Award: 
myride2, managed by Roberta Habowski of the Area Agency on Aging 1b, for conveniently and accessibly connecting the region's seniors with transportation options that fit their needs
Under 30 – Breakthrough Transit Champion: 
Carsten Applegate, for efforts to maximize efficiency and frequency of DDOT routes as a studious, witty, and passenger-focused transportation planner 
The Unsung Hero Award: 
Cindy Reese, a passionate activist, fed-up grandmother, and inspirational spokeswoman for more and better transit as Transportation Co-Chair at MOSES
The Corporate Transit Champion Award: 
Detroit Bus Company, led by Andy Didorosi, for their efforts towards an express bus to Detroit Metro Airport, providing student rides to after school programs, and other innovations 
The Forward Motion Award for Most Effective Public Servant: 
Michigan State Senator Bert Johnson, for work behind the scenes and across the political aisle to build understanding of the importance of an RTA
A Big THANK YOU to Our Most Generous Sponsors!

 
Hall, Render, Killian, Heath & Lyman  -  Indian Trails  -  Integrity Home Health Care  -  Michigan Environmental Council  -  Michigan Schoool of Professional Psychology
Thank You to Our Silent Auction donors too! 
We greatly appreciate the support of area businesses, artists, and organizations who donated items or gift certificates to TRU's Silent Auction, including: Basement Burger Bar, Bead Bohemia, Bob's Classic Kick's, Boll Family YMCA, the Brooklyn Street Local, Cake Luv, Charles H. Wright Museum of African American History, Cliff Bells, Core Point Fitness, D:hive, Detroit Denim Company, Detroit Historical Society for The Detroit History Museum, The Detroit Princess Riverboat, Detroit Symphony Orchestra, Feet on the Street Tours/www.EnjoyTheD.com, Virginia Gajar, The Grand Trunk Pub, Hotel St. Regis, intu Specialty Teas & Accessories, Tim Killeen, Linda Logan, Mariott Detroit Renaissance Center Hotel, Moosejaw, Music Hall Center for the Performing Arts, Off the Beaten Path Books & Emporium, O'Mara's Irish Restaurant, Peaceful Spirit Yoga, Pewabic Pottery, Puppet Art, Detroit Puppet Theatre, Howard Rubenstein, Seva, Silver Birch Integrated Holistic Healing & Consulting, LLC, Slows BarBQ, Sunflour Bakehaus Bakery, Traffic Jam & Snug, and Wayne State University's Maggie Allesee Department of Theatre and Dance!
Last but certainly not least, a Heartfelt THANK YOU to our event planning team and all our Volunteers and Staff!
Thanks,    
                      Megan
PS - You are subscribed to Transportation Riders United's email list. TRU is Detroit's nonprofit transit advocate, working since 1999 to improve bus service, remove barriers to rapid transit, and advocate for smart transportation investments.
If this was forwarded from a friend, you can join our email list and receive these updates directly every week or two.