Hi Supporter.  Who do you think has done great work to advance Regional Transit?  Nominate them today for our Regional Transit Awards!  Read on . . . 
 

Seeking Nominations for Regional Transit Awards
Who do you think has done the most to improve regional transit over the past year?  
TRU will present Regional Transit Awards on May 21 to recognize the essential work individuals, organizations, and businesses have done over the past year to improve transit throughout greater Detroit, in the following categories: 

Who do you think should be recognized?  Submit your nominations asap - deadline Feb 28.   
We'll then narrow the list to the top nominees in each category and a special advisory group will select the top nominee in each category for the top award.
The top nominees and award winners will all be recognized at TRU's big Regional Transit Awards dinner on May 21.  Mark your calendar for the celebration!   
 

Lights, Camera, Transportation!

 
Our partners at the Transportation for Michigan coalition invite you to participate in the Lights, Camera, Transportation! Contest:
Have a certain bus route that gets you to work every day? Is there a street nearby that's in desperate need of TLC? Want faster passenger rail? Capture it on video and tell us about it. You could win a prize!
Simply share with us, through video, what's working and what's not working on your daily commute. You can tell us about your favorite bike path, your walk to work, or your local bus station, and we'll share your story on the Lights, Camera, Transportation! YouTube channel.
You can submit your video using Sendspace, emailing nealah@trans4m.org or sending the video to your local Trans4M "core partner". All participants will be entered in a raffle to win one of twenty $50 gift cards.
The contest isn't just for individuals. The company or non-profit that gets the most videos submitted on its behalf will win $1,000 that they can contribute to any transportation project they choose.
For contest details, visit our contest page. Roll camera!    
 

Other Transit News
Also in the news:
Meet Paul Hillegonds, Chairman of the Regional Transit Authority
Interview from MichiganNow.org
A veteran politician who knows the art of compromise will become chairman of the new regional transit authority for metro Detroit. Republican Paul Hillegonds became speaker of the Michigan House of Representatives in the 1990's when both parties had 55 members. He had to share the job with a democrat. Now, Hillegonds will try to bring the city and suburbs together to build a new transit system.
"What do we want a system to look like? How should the existing system be better coordinated? All of those issues I expect will have varying opinions around them, diversity of viewpoints. The challenge will be building consensus around what the authority should be and what a master plan should be. And finally how do you fund it? What can we take to the people that will inspire support?"
Detroit Bus App Stop313 Gives iPhone Users Real-Time Transit Information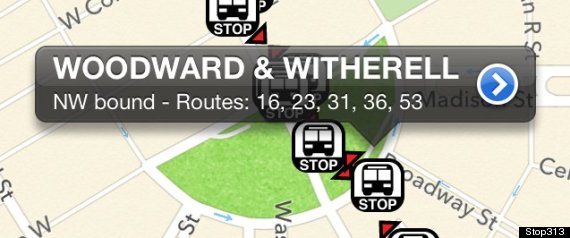 As reported by The Huffington Post:
An app cooked up by a software developer in his free time and quietly released last month is making it easier for iPhone-carrying bus riders to get around Detroit.  Stop313, available for free in the iTunes store, determines a user's location and then shows arrival times from nearby bus routes. 
2012 Passenger Rail Ridership Hit Record Heights in Michigan
As reported by Trans4M: 
Record-breaking Amtrak ridership was achieved in fiscal year 2012 – both nationwide and in Michigan – creating an economic boost for our state, and giving momentum to Governor Rick Snyder's revitalization goals for Michigan's transportation infrastructure.
A total of 792,769 travelers rode an Amtrak line in Michigan, and record-highs were posted on each of Michigan's three service lines. Since FY 2003, Amtrak has experienced a 58% increase in Michigan ridership which created a 112% increase in Michigan Amtrak revenue. Additionally, the Pere-Marquette began running 110 mph trains in February 2012, and plans are in place for the 110mph service to expand to the Wolverine by 2015.
Americans now spending most on gas since early 1980s
As reported by The Washington Post:
The good news is that cars and trucks in the United States have been getting much more fuel-efficient in recent years. The bad news is that gas prices are rising so quickly that Americans are now spending a bigger share of their income on gasoline than at any time since the early 1980s. The average household spent nearly 4 percent of its income on gasoline in 2012, the most in nearly three decades.
---
For even more up-to-the-minute updates, videos, articles, and more, make sure to like TRU on our Facebook page:  Support Detroit Transit.  And make sure to add your thoughts and share our posts with your friends!
As always, feel free to contact us before or after with any comments, questions, ideas or concerns.  Thanks,                           
                                         Megan
PS - You are subscribed to Transportation Riders United's email list. TRU is Detroit's nonprofit transit advocate, dedicated since 1999 to improving bus service, removing barriers to rapid transit, and advocating for smart transportation investments.